HOMIKOFY.CO – Do you have your own bedroom? how is your bedroom atmosphere? comfortable or not? Homikofy have tips to Make a comfortable interior bedroom design. There are several things to consider in the arrangement of space. Especially the position of the bed in the bedroom. The right bed position makes us more comfortable. If your bedroom is minimalist with the size of the room is not so spacious, you can put the bed in the corner of the room near the wall.
To make the bedroom comfortable, paint color selection is quite important. Do not use too bright colors like orange. orange or light yellow color will disrupt your sleep quality. Better to use natural colors, soft colors on the interior design of the bedroom. soft colors will relax your mind. If you want to use bright colors, you can use sky blue or pink. The color in addition to making the room become more spacious also not dazzle the eye. To further make the room more comfortable, you can add wallpaper on your bedroom wall.
The placement of furniture becomes an important part in the arrangement of the bedroom. For the women's room, you can add furniture such as wardrobe or dresser. Use a simple dressing table and not too big. Choose a sliding door cabinet. Sliding door model suitable for minimalist room with a narrow size. In addition, you can add a small shelf as a place to put your collection items such as books, dvds, and others.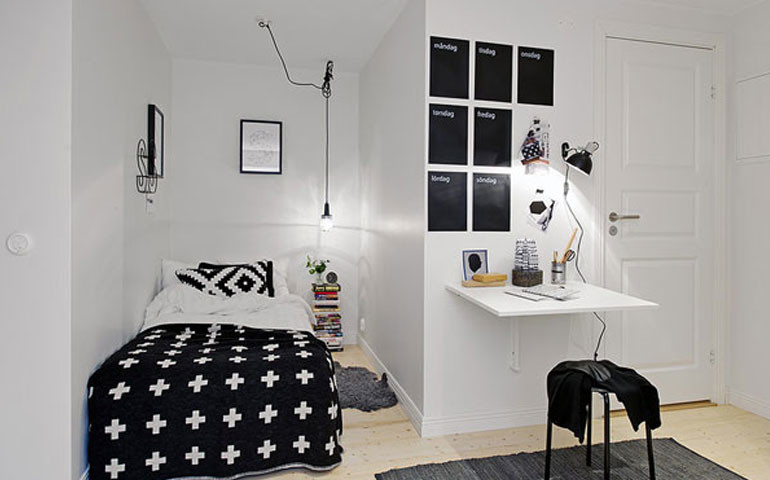 In addition to spatial arrangement, wall paint color selection and furniture arrangement, you can add decoration in your bedroom. Add some additional decorations such as curtains on the door or window of the room. can also add a small table and a feather rug next to your bed.
Related posts: